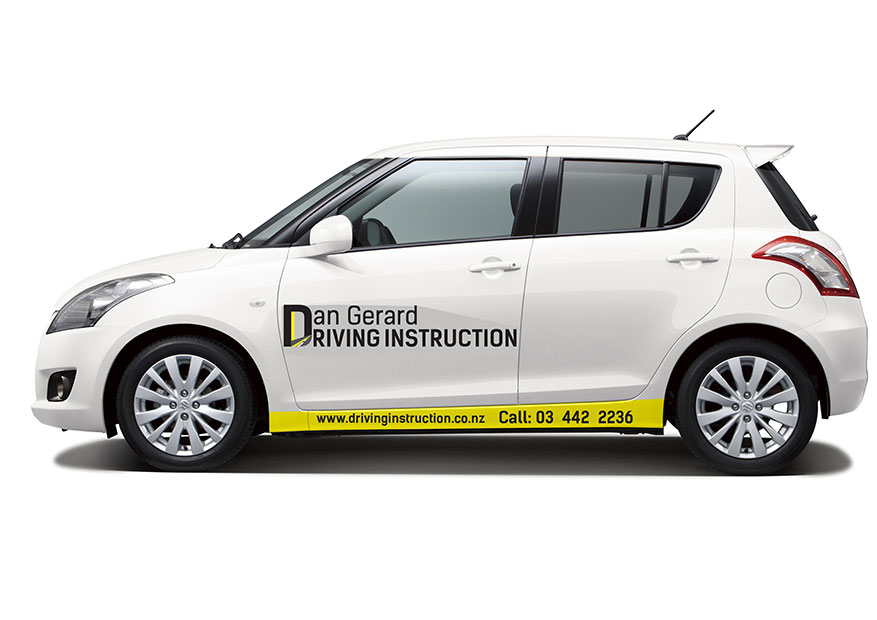 Dan gerard driving instruction
Dan & Rachael Gerard give professional driving lessons in Queenstown, Otago. We are members of the NZIDE (New Zealand Institute of Driver Educators). We offer quality driving instruction including:
Learner driving lessons - for beginner drivers who have never driven before, or for those with some driving experience who need more skills and confidence
Intermediate driving lessons - for those wanting to brush up before their restricted license test
Street Talk defensive driving course - learn to drive defensively and reduce the wait time for the full licence test
Full licence test refresher - for those takig their full license test, includes hazard detection and response
Company/Employee Driving Assessment & Coaching - in-vehicle assessment and coaching for employees to reduce driving risk and eliminate bad habits
Advanced driving competency assessment - for individuals applying for a DL4 for their licence and require a driving assessment
Winter Driving Workshops - classroom theory on vehicle dynamics, winter driving hints, snow chain fitting followed by in-vehicle snow/ice training.
Company Road Safety defensive driving course - classroom group discussion and seminar to look at causes of crashes, hazards awareness & scanning techniques, driver fatigue, risk tolerence, tips to reduce minor and major crashes etc.
Rental car customers - familiarisation with driving on the left side of the road and clarification on New Zealand road rules
Reversing and parking tuition -

simple techniques for confidence in reversing and parallel parking.
Dan & Rach know how to coach their students to drive safely and legally. They are patient driver trainers and will coach students to drive to a high standard. They are very flexible and offer instruction in your own vehicle, or they can provide modern safe automatic Suzuki Swifts fitted with dual controls for safety. Students can usually be picked up at work, school or home. Please check with us before booking if unsure.
Meeting locations include:
| | | |
| --- | --- | --- |
| Frankton Bus Shelter | Mitre 10 Mega car park - Frankton Flats | Noel Leeming carpark - 5 Mile |
| Wakatipu High School - Drop off zone | Unichem Remarkables Park Pharmacy (AA Office) | Events Centre |
| DOC office 50 Stanley St - Queenstown | | |
| | | |
Note: Due to time constraints we can't pickup Arrowtown, Arthurs Point, Fernhill or Kelvin Heights. We don't recommend the DOC office at 8am due to traffic.
Driving Lessons Available:
Learner Driving Lessons (Never driven): The driving school offers new drivers the chance to develop skills and learn the basics. These lessons can literally start from the very first lesson in a modern automatic Suzuki Swift fitted with dual controls for safety. There are a variety of first lessons available including explanation controls. Students will start to learn all basic driving techniques including steering, cornering, accelleration, speed control and observation. This will get them to the 'practice ready' stage where parents can start to take over and build up their driving hours in quiet areas.
Learner Driving Lessons (Some driving experience): Assessment will be given to drivers with some experience who require lessons. A range of additional lessons are offered to build the required skills of drivers and grow their confidence. Lessons include emergency braking, hill driving, handbrake starts, gear changing, correct lateral position, give way rules, and many other techniques to reduce the risk of accidents. Hazard detection will be explained in detail including the hazard action plan which has been shown to reduce the risk of accidents for new drivers by 25% in their first two years.
Intermediate Driving lessons: Those needing to sit their restricted licence test need to be able to consistantly demonstrate to the testing officer correct observation skills such as scanning, mirrors and head checks and perform simple manoeuvres such as turning left, pulling out from the kerb, or turning right across traffic, all while selecting appropriate safe gaps and maintaining correct road position. They must also be able to perform more advanced manoeuvres such as merges, lane changes, crossing over cycle lanes, using traffic lights, diverging around hazards, three point turns and reverse parallel parking.
Street Talk defensive driving course: This course teaches safe defensive driving and will reduce the wait time for the full licence test. Those under 25 years of age have their wiat time reduced from 18 months to 12 months. Those 25 years of age or older have their full licence wait time reduced from 6 months to 3 months.
Full licence Test Refresher - Anyone going to take their full licence test will need to brush up on their knowledge, ensure they have not picked up any bad habits. We also cover hazard detection and hazard responses which is an important aspect of this more intensive test.
Company/Employee Driving Assessment & Coaching: When employees are driving company vehicles, it's now common to have their driving assessed to reduce the risk of workplace vehicle accidents. Sessions are usually 1 hour duration but may be 1.25 hours if you need to include rural roads. All sessions include hazard detection with our NZTA approved driving instructors for the purpose of identifying risk and crash risk reduction, and fuel efficiency coaching. Coaching and a written report is included. Further training may be recommended if individuals require it.
Advanced Driving Competency Assessment: For Individuals who are applying to NZTA for a DL4 Exemption to reduce time for their licence or P-Endorsement. Both Dan and Rach are approved instructors for this testing which takes 1 hour. You will be taken over a predetermined route and if your driving is satisfactory you will be issued with a certificate. If your driving is of an unsatisfactory standard you may require further training before being reassessed.
Specialist Winter Driving Courses: (Please contact Dan about winter courses - dan@drivinginstruction.co.nz)
Snow chain fitting lessons

(1-2 hour). Basic fitting, use and removal of snow chains. Suitable for 1-10 people.
Full Snow chain workshops (2-4 hour). Fitting, use and removal of snow chains plus advice on driving on snow/ice roads. Chain fitting can include either ladder, easyfit, or quickgrip type snow chains. Includes practicing fitting snow chains to your own car. Suitable for 1-16 people.
Winter Driving workshops (4-8) For individuals or company staff, anyone driving in snow/ice/grit conditions. Group instruction on vehicle dynamics of accelerating, braking and cornering theory, skid avoidance, plus winter driving best practice including reasons for loss of control. Followed by full snow chain demonstration including fitting, use and removal of snow chains. Then head up into the snow for in-vehicle snow/ice driving using your own or your company vehicle (NOT recommended for rear wheel drive vehicles). Suitable for groups up to 1-4 people, maximum 2 groups per day. Your vehicle MUST have correct fitting road-worthy snow chains.
Company Road Safety defensive driving courses - classroom group discussion and seminar to look at causes of crashes, crash statistics, hazard awareness, driver attitudes and behaviour, scanning techniques, latest parking techniques, driver fatigue, risk tolerence, road rules, tips to reduce minor and major crashes and more.
Reversing and Parking Tuition: Safe and simple techniques for general parking including 90 degree supermarket parking and reverse parallel parking. These techniques will build confidence and significantly reduce the risk of damage to your car.
Rental car customers - One hour coaching sessions to overseas visitors wanting to hire a car in New Zealand who wish to have a familiarisation on our roads and clarify any road rules first. We also offer assessment for rental car companies needing to have their customer's driving independantly assessed.
GIFT VOUCHERS
Gift Vouchers can be purchased for friends or family members and make a fantastic present. Please email us and advise who the voucher is for, who it is from (eg: Mum & Dad or Sandy & Pete) and the quantity of lessons required ( Minimum 2-6 maximum). You will receive an invoice and gift voucher by email: info@drivinginstruction.co.nz We will get back to you with prices and answer any questions. Gift vouchers are valid for 1 year.